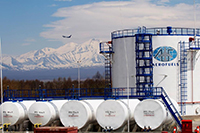 In December 2021 Aerofuels Group of Companies finalized refueling complex (TZK) upgrade in the airport of Khomutovo (Yuzhno-Sakhalinsk), including refueling facilities and related infrastructure. In the airport a new tank farm for 800 thousand liters of aviation fuels is built, jet fuel loading/unloading units are re-equipped and a new system of contaminated effluent treatment and removal was installed.
In January 2022 all newly built and upgraded auxiliary buildings and structures on the territory of TZK were registered and put into operation. TZK upgrade will make it possible to increase jet kero stock, and, consequently, that will influence air service growth and increase of refueling in the airport.
Works on Aerofuels TZK upgrade and technical re-equipment in the airport of Khomutovo were carried out within a large investment program of the company for 2020-2022 aiming at construction of new and re-equipping of operating TZK in the Russian airports. The program, within other measures, provides replacement of process equipment of fuel storage and accounting systems, delivery of new refuelers and installation of new laboratory devices in the airports of the company location. In the course of the investment program implementation Aerofuels pays a special attention to compliance of the whole complex of services in jet fuel supply with the applicable Russian and international standards. At the same time, equipment manufactured in the Russian factories and made of the domestic and imported components is used as a priority for refueling complexes upgrade and re-equipping.
TZK of Aerofuels-Kamchatka – a branch of Yuzhno-Sakhalinsk has been operating in the airport of Khomutovo (Yuzhno-Sakhalinsk) since August, 2014, and possesses its own up-to-date fuels and lubricants storage, quality control laboratory, new refuelers and qualified personnel. The company renders services meeting the highest Russian and international aviation requirements in refueling, has all required certificates and licenses, and successfully and regularly passes IATA fuel quality pool (IFQP) inspections.