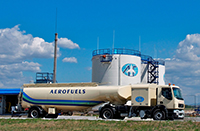 In the annual rating of the largest companies of Russia «Expert-400», published in October, Group of companies Aerofuels ranked 307. The main parameter for rating is the annual volume of products and services sales. In 2013 ãîäó Group of companies Aerofuels profit was 26 027 million rubles, and rate of growth in relation to the previous period is 15,5%. Growth dynamics significantly outruns an average value of the companies included into the rating. 400 largest companies in 2013 increased profit only to 10,5%.
The main goal of «Expert-400» project is to reveal large companies of the Russian economic life and to analyze a role of large business in the economic development of Russia on the basis of their business activity results, as well as structure and main tendencies of large business development. The rating helps to increase the Russian economics transparency and thus supports its activation, establishment of partnership relations and investments inflow.
Today «Expert-400» rating is the most representative list of the leading Russian companies. Over the years of its existence the rating has won recognition in Russia and outside its territory, and is widely quoted by the Russian and international mass media.