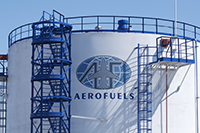 The Company offers aviation fuel provision to exotic countries.
One of the flagships of Aerofuels Group of companies – Aerofuels International marked 18 years in the summer 2013. During this period aviation carriers, the customers of the company gained the possibility to refuel their aircrafts in more than 1000 world's airports nearly worldwide. Aerofuels International partners include the largest transnational oil companies such as ShellAviation, ExxonMobil, BritishPetroleum, ChevronTexaco, Hanwha, KuwaitPetroleum, StatOil and others.
Nowadays the customers of Aerofuels International in foreign airports include not only Russian aviation carriers but also foreign ones that gives us evidence of the professionalism of the employees and of high level of trust to the Russian company. Aviation carriers refuel their flights through Aerofuels Group in all European countries, USA, Canada etc. However, during their extensive practice the managers of Aerofuels International had to arrange refuelling in rather exotic countries within the shortest possible time: Greenland, Northern Mariana Islands, Tanzania, Timor, Guam, Laos and Cambodia, Cote d'Ivoire – this is just an incomplete list of exotic places where Russian airlines have been refuelled thanks to Aerofuels International.
"We often need to refuel not only regular but also special flights in different spots of our planet. We are glad that our work allows the airlines and their passengers filling welcome in the airspace and move nearly without any limitations", - says Gennady Pavlenko, the General Director of Aerofuels International.