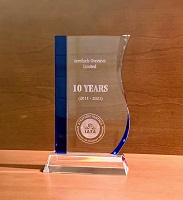 Since 2011 Aerofuels Group of Companies has been a strategic partner of IATA, a non-governmental organization uniting air carriers and airlines, associated with aviation transportation, from 120 countries. Modern international air transportation is one of the most dynamically developing branches. While developing standards, procedures and practices, IATA provides and coordinates cooperation between aviation transportation market members, which has a favorable effect on their production activities efficiency and flights safety.
IATA strategic partnership program is a platform enabling companies to build and strengthen relationship with key and concerned parties in the branch, to learn the new and to exchange experience. Due to participation in different working groups of IATA, strategic partners get a unique vision of airline priorities, participate in new initiatives development and have rights of priority to promote solutions of a paramount importance for the international aviation transportation future.
Aerofuels arranges services in aviation fuel supply in Russia and abroad for airlines, tour operators and air brokers; cooperates with both Russian and leading international carriers ranking among top 50 of airlines of global standing. Aerofuels partners in refueling are large oil transnational companies, international and regional aviation fuels suppliers.