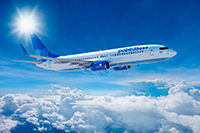 On October 02nd, 2020, Pobeda airline launched a new route from Kurgan to Moscow: flights from the airport of Vnukovo will be performed four times a week. Refueling is carried out by TZK Aerofuels Kurgan. The first regular flight from Kurgan to Moscow in the end of 2011 was performed by UTAIR airline, and in January 2020 direct flights to Surgut and Khanty-Mansyisk, which the airline resumed after quarantine restrictions cancellation, were added. At the present time suitable connections in the airports of Moscow air hub enable passengers to fly from Kurgan to several Russian cities, but work on air transportation development in the region is in progress.
In 2019 Alexander Nerad'ko, Head of the Federal Air Transport Agency, visited Kurgan, evaluated the airport condition and held a meeting devoted to aviation complex of the region development, where issues concerning the growth of flights to Moscow and opening of new ones, including to the south and to the north, as well as to Saint-Petersburg, Yekaterinburg, Simferopol, Novy Urengoy, were discussed.
The airport of Kurgan, a member of Aerofuels Group of Companies, has a complex of administrative buildings and structures, tank farm, refuelers, its own single-ended siding, unloading rack and loading depot. TZK Aerofuels Kurgan is equipped with certified and up-to-date equipment and guarantees to airlines a high quality level of jet kero refueling, reception, storage and further delivery to a refueler. At the present time Aerofuels Group of Companies is undertaking a large-scale upgrading of airport facilities which will be finished in December 2020.