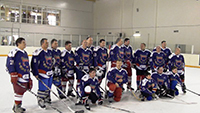 During winter holidays in January a friendly hockey match "Warriors' Brotherhood against drugs" arranged by FDCS, a charity foundation Trust and municipal authorities was held in Omsk. The Group of companies "Aerofuels" together with the aviation company Utair became Warriors' Brotherhood team partners again. Sports festival was held to promote an anti-drug attitude, a healthy life and sport, children's and youth proactive approach to life.
Moscowites invited famous soviet hockey-players Alexander Yakushev, Sergey Makarov, Alexander Kozhevnikov and Yury Shatalov to join them in sport propaganda. The team on Omsk ice was represented by national hockey legends, the hero of Russia Nikolay Gavrilov, active officials of the FDCS central administration and even two young but, as it turned out later, very effective hockey-players - the Pegovs brothers. Veterans of the local team Avangard opposed them. Famous Alexander Yakushed opened scoring. The match was quite combative but the result was indeed a friendly score draw – 8:8.
In the result the natives of Omsk got a real benefit sports festival having gathered both a young generation – sports schools students, and just a real hockey fans together at the stadium stands. The fans could watch the game and also talk to the honored sportsmen and get their autographs. The team Warriors' Brotherhood wished everybody there not to ruin their health with addictions, not to run into drugs, alcohol and smoking problems and to lead a healthy life.
Nowadays in Omsk hockey is very popular, there are two sports schools of hockey-players Fetisov and Kozhevnikov. As the festival participants said, when the icy palace had appeared, juvenile crime and devotion to drugs had decreased in that district of Omsk.