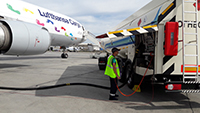 Since July 16th, 2016 TZK-Irkutsk, the Group of Companies Aerofuels subsidiary, has started refueling regular flights of Lufthansa Cargo airline, one of the world leaders of freight air service, in Yemelyanovo airport (Krasnoyarsk).
Currently there are three operators offering aviation fuels supply in the airport, but the airline management decided to cooperate just with Aerofuels in supplying the flights with fuel as in June this year Aerofuels has put into operation a new alternative TZK in Yemelyanovo airport. A number of factors were decisively important for selection of the refueler in the airport, in particular: TZK equipping with the modern facilities satisfying the highest international standards and requirements, availability of the refueler's own storage area, the certified refueling vehicles and high-qualified personnel, which altogether guarantees the customers a high-quality service in the aircraft into-plane fueling.
Lufthansa Cargo and Aerofuels successful long-term cooperation in refueling in Yemelyanovo airport, undoubtedly, will create favorable conditions for development of the freight air service of the federal and international importance, which will cause potential air carriers attraction to the airport and, finally, - for the whole region development.