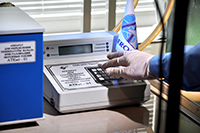 On June 28th, 2021, Aviation Fuel and Lubricants Quality Control Laboratory belonging to Aerofuels Ulyanovsk CJSC succeeded in certification held by the State Research and Development Institute of Civil Aviation of the Ministry of Transport of Russia. Aerofuels Laboratory in the airport of Ulyanovsk has confirmed throughout the nearest three years a full conformance to the requirements of Russian legislation for organizations undertaking aviation fuel, oil, lubricants and special fluids quality control.
All quality control laboratories included in TZK Aerofuels network pass regular inspections within Voluntary certification system of civil aviation facilities, and confirm their high level of equipping and a complex of services rendered for TC-1, PT, JetA-1 aviation fuels and special fluids quality control. Aviation fuel and lubricants quality control laboratories operation applies up-to-date laboratory equipment, which increases a level of flights safety and guarantees conformance of fuel to the requirements of branch-related Russian and international standards and regulations.
Aerofuels Ulyanovsk CJSC is a member of a refueling complexes network of Aerofuels Group. It has been operating in the airport of Ulyanovsk-Vostochny for more than ten years and providing Russian and international air carriers' flights fueling quality. TZK has not only a fully equipped quality control laboratory but also has advanced refueling facilities, its own fuel and lubricants storage locating on the territory of the airport, and a railway siding enabling to deliver oil products uninterruptedly.