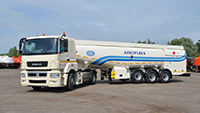 Aerofuels Group of Companies carries out a consistent work on re-equipping of their refueling complexes (TZK) in the Russian airports, one of the key areas of activity being up-to-date aircraft refuelers and tank trucks purchasing. Orders for new refuelers are placed at the Russian manufacturers which products have proven their worth in different operating and weather conditions in the Russian airports.
In July 2018, within a vast program of investments in TZK upgrading on the Far East territory, a new TZA-30 of GRAZ manufacture was delivered to one of the oldest enterprises of Aerofuels Group of Companies – to the airport of Yelizovo (Petropavlovsk-Kamchatsky), and by the end of the year one more same model refueler will be supplied to the airport.
Use of new TZA-30 during airplanes refueling guarantees to the air lines the level of service satisfying IATA standards and requirements of the international and domestic aircraft manufacturers, and makes it possible to save time significantly during aircraft refueling.
Aerofuels Kamchatka TZK is a member of the network consisting of 24 TZK being a part of Aerofuels Group of Companies. It possesses its own up-to-date refueling facilities, laboratory and skilled personnel. TZK regularly passes voluntary certification for jet fuel supply and guarantees to the customer the high-quality jet kero refueling. The company also manages Aerofuels Group of Companies oil tanker fleet.