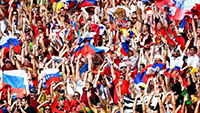 2018 World Football Championship takes place in Russia from June 14th to July 15th. By Federal Tourism Agency estimation, this large-scale sport and tourist event attracted about 40% tourists more than the Olympic Games of 2014 in Sochi. In all cities of FIFA World Football Cup (Moscow, Kaliningrad, St.-Petersburg, Volgograd, Kazan, Nizhny Novgorod, Samara, Saransk, Rostov-on-Don, Sochi, Yekaterinburg) the passenger flow has increased significantly due to regular flights frequency growth and deployment of a greater amount of additional charters.
Aerofuels subsidiaries located in five of eleven Championship host cities (Moscow, St.-Petersburg, Kaliningrad, Nizhny Novgorod, Yekaterinburg) promptly provide flights of the Russian and international air lines carrying teams – World Cup participants and football fans.
Up-to-date and certified refueling complexes of Aerofuels Group of Companies guarantee a high quality refueling, including fuel which passes a strict examination in advanced laboratories, as well as services in refueling, with the company's own refuelers fleet in use, meeting the highest international requirements.